Food Allergy Resources
Educational Institutions where courses by Dr. Janice Joneja are currently offered:
University of Surrey, School of Biomedical Sciences, Guildford, Surrey, UK
http://www.surrey.ac.uk/SBMS/pg_taught_courses/nutrition.htm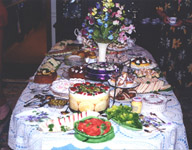 The most comprehensive site for resources on food allergy and food intolerance on the world wide web
Zing Solutions:
All Allergy
http://allallergy.net/
From the CEO and Editor of AllAllergy, Dr. Harris Steinman MD:
Purpose of this Site:
The World Wide Web has simplified access to a great wealth of allergy and intolerance information for health professionals and consumers. However this information is not necessarily easily accessible. Search Engines do not grade Web sites or articles according to their content or worth. Important articles or resources may not show up at all on a Search Engine. Furthermore, excellent resources may be "hidden" in sites due to poor navigational design. Some noteworthy sites have little or poor information on certain topics, which may however, be well covered in more obscure sites.
This Web site has been launched to respond to the need for rapid access to all allergy and intolerance resources on the World Wide Web. We do not endorse any products or companies found on these pages. Companies do not pay to be listed or to have their products featured. Our coverage is inclusive.
---
Support groups for allergy sufferers and their families
Action Against Allergy (AAA)
www.actionagainstallergy.co.uk
Action Against Allergy was established in 1978 to help those suffering from any kind of allergy. Its aim is to advance understanding, awareness and recognition of allergic medical conditions and allergy-related illness, and the actions needed for research, diagnosis and treatment.
Allergy/Asthma Information Association (AAIA)
http://www.calgaryallergy.ca/aaia/index.htm
The Allergy/Asthma Information Association (AAIA) is a registered Canadian charity dedicated to helping allergic individuals and their families cope with everything from the sniffles and sneezes of hayfever to life-threatening food allergies and asthma.
It was founded as a voluntary organization in 1964 by concerned parents of allergic children who set out to get labelling on foods.
---
Suppliers of special foods for allergic people
Liv-n-well Distributors Ltd. #1 – 7900 River Road, Richmond, BC V6X 1X7
http://www.liv-n-well.com/
Specializing in gluten free and wheat free products, low protein products, supplements for eating and nutritional disorders, and thickeners for dysphagia.
The store carries a variety of foods suitable for allergen-free diets, and ships products worlwide.
Ener-G Foods
Ener-G Foods are producers of foods for diet-restricted individuals. The company provides a wide range of ready-made foods and mixes that are wholesome, nutritious, and free from many allergens and additives.
Hill's Foods Ltd
http://www.hillsfoods.com/
People with sensitivities to domestic meats and poultry frequently tolerate wild or exotic meats or poultry, which make welcome additions to their diets. However, such products are often difficult to find. Hill's Foods has an extensive catalogue of such items, which are certainly worth exploring.
Hill's Food Ltd. are suppliers of organic meats; game meats (e.g. arctic caribou, bison, wild arctic musk ox, wild boar, venison, elk, reindeer, rabbit, goat); specialty poultry (e.g. partridge, quail, ostrich, emu, rhea, goose, pheasant, squab, guinea fowl, poussin); wild edible plant items (sea parsley, wild sea asparagus, wild fiddleheads, kelp, limu ogo,) and wild condiments to chefs, restaurants, retailers and wholesalers around the world.
Contact them at: Unit 1-130 Glacier Street, Coquitlam, British Columbia, Canada V3K 5Z6
Phone: (604) 472-1500 / Fax: (604) 472-1501
E-Mail: sales@hillsfoods.com
---
Suppliers of vitamins, minerals and supplements suitable for allergen-restricted diets
Finlandia Natural Pharmacy
http://www.finlandiapharmacy.com/
1964 West Broadway (at Maple), Vancouver, BC V6J 1Z2, Canada
TEL: 604 – 733 – 5323
TOLL FREE: 1-800-363-4372
FAX: 604 – 733 – 5340
Since 1973 Finlandia Natural Pharmacy has been bridging the gap between allopathic and natural medicine. Owner, Harlan Lahti and his team have been pioneers in natural medicine by providing the largest selection of vitamins, herbal, and natural medicine in Western Canada and comprehensive health information and educational support. Finlandia remains committed to its underlying philosophy that "whenever possible, nature should be the first line of defense".
---
Dietetic services for food allergic people
Dial-A-Dietitian Nutrition Information Society of B.C. (DADNIS), Burnaby, British Columbia, Canada
http://www.dialadietitian.org/
DADNIS is a charitable, not-for-profit organization funded by the B.C. Ministry of Health Services, other grants and charitable donations.
The Mission of DADNIS is to provide readily accessible quality nutrition information to the public and health information providers throughout British Columbia, to enhance the health status of British Columbian`s through nutrition information.
A dietitian specializing in food allergy management is accessible by phone to all health care professionals and allergy sufferers throughout British Columbia:
Greater Vancouver, B.C. Phone: 604-732-9191
Toll-free in British Columbia: 1-800-667-3438
---
Diagnostic and therapeutic aids for the food allergy professional.
Allergy Advisor
http://allergyadvisor.com/
Allergy and Intolerance Software for the assessment and management of adverse reactions due to allergy, food intolerance, additives, preservatives and substances naturally occurring in food and the environment.
---
Information on specific food allergies
Canadian Food Inspection Agency
Food Safety Directorate
Bureau of Food Safety and Consumer Protection
Food Allergens
http://www.inspection.gc.ca/english/fssa/labeti/allerge.shtml
Provides information on Canadian Food Labelling laws and very informative factsheets on the most common food allergens.
---
Peanut Allergy
http://www.allerg.qc.ca/peanutallergy.htm
A website totally devoted to peanut allergy:
Everything you ever wanted to know, and answers to questions you did not even think to ask…….
Information on Irritable Bowel Syndrome
The Canadian Society of Intestinal Research (SiR)
The Canadian Society of Intestinal Research is a registered non-profit organization.
Established on October 18, 1976, SiR (formerly The Northwestern Society of Intestinal Research) is dedicated to increasing public awareness, providing patient educational materials, and funding medical research regarding a broad range of gastrointestinal diseases and disorders.
Information specific to irritable bowel syndrome is provided on the SiR site at
http://www.badgut.com/index.php?contentFile=ibs&title=Irritable%20Bowel%20Syndrome