Dealing with Food Allergies in Babies and Children
Dealing with Food Allergies in Babies and Children
Title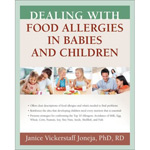 Dealing with Food Allergies in Babies and Children
Author
Janice Vickerstaff Joneja, Ph.D.
Publisher
Bull Publishing Company, Boulder Colorado
ISBN
978-1933503-05-9
Date
October 2007
Front Cover:
Offers clear descriptions of food allergies and what's needed to manage them
Presents comprehensive strategies for dealing with the Top Ten food allergens and the most common food intolerances
Provides detailed information about food sensitivities in eczema, hyperactivity, autism, asthma, oral allergy syndrome, and more.
Reinforces the fact that developing children need every essential nutrient for their growth and development, and provides information to achieve that goal
Back Cover:
Coping with food allergy in babies and young children can be frightening, especially for new parents facing the problem for the first time. For anyone, especially those unfamiliar with food allergy, management of the condition in the very young can be intimidating.
Food allergy is a response of the immune system. It is currently estimated that food allergy occurs in 8 to 10 percent of children. Food intolerances, which are reactions to chemicals contained in, or added to foods, can contribute to the growing number of problems many children have with food allergies. While food allergy is much more common in babies and young children than in adults, most food allergies are outgrown by the age of seven. This book addresses common problems in infants and children afflicted with food allergies and food intolerances, and the difficulties faced by parents, family, and others who care for them.
You can ensure that you are parenting well if you educate yourself about the real problems that sometimes lie beyond the realm of finicky eating. Dealing with Food Allergies in Babies and Children focuses on the physiological aspects of food allergies in children , arming parents and caregivers with useful tools like the unique Allergen scale and other practical approaches and resources. The book contains numerous valuable and proven strategies, and provides essential information for dealing with the Top 10 Allergens — Milk, Eggs, Wheat, Corn, Peanuts, Soy, Tree Nuts, Seeds, Shellfish, and Fish.
Dealing with Food Allergies in Babies and Children guides the reader toward nutritionally sound diets for children with food allergies, drawing on the experience of clinicians, parents, and families of children afflicted with often difficult food allergies and food intolerances. It presents methods for analyzing and treating problems, but never loses sight of the child's nutritional needs.
Dr. Janice Vickerstaff Joneja is one of only a handful of experts on food allergies in North America. She has scientific, clinical, and practical knowledge due to her experience as both a researcher and practitioner. The author of several books, including the successful general food allergies book, Dealing with Food Allergies, Dr. Joneja is an educator, author, researcher, and clinical counselor with over twenty-five years of experience in the biochemical and immunological reactions involved in food allergy and intolerance. Formerly head of the Allergy Nutrition Program at the Vancouver Hospital and Health Science Centre, Dr. Joneja currently runs a successful private practice in food allergy management in British Columbia, Canada and is an adjunct professor in the School of Family and Nutritional Sciences at the University of British Columbia. She holds a PhD in medical microbiology and immunology, and is a registered dietitian (RD).
Preface
Introduction
Chapter 1 What is Food Allergy?
Prediction
Chapter 2 Dealing with Pediatric Food Allergy
Prevention
Chapter 3 Prevention of Food Allergy
Sensitization and Tolerance
Pregnancy and Allergy
Breast-feeding and Allergy
Adding Solid Foods
Identification
Chapter 4 Symptoms of Food Allergy in Babies and Children
Chapter 5 Diagnosis of Food Allergy
Chapter 6 Elimination and Challenge
Management
Chapter 7 Cow's Milk Allergy
Chapter 8 Lactose Intolerance
Chapter 9 Egg Allergy
Chapter 10 Peanut Allergy
Chapter 11 Soy Allergy
Chapter 12 Nut and Seed Allergy
Chapter 13 Wheat Allergy
Chapter 14 Corn Allergy
Chapter 15 Seafood Allergy
Chapter 16 Top Ten Allergens
Chapter 17 Fructose Intolerance
Selected Conditions Associated with Food Allergy
Chapter 18 Anaphylaxis and Food Allergy
Chapter 19 Hyperactivity, ADHD and Allergy
Chapter 20 Autism and Diet
Chapter 21 Oral Allergy Syndrome
Chapter 22 Eczema and Diet
Chapter 23 Asthma and Food Allergy
Chapter 24 Immunologically-Mediated reactions to foods
Eosinophilic Esophagitis
Celiac Disease
Chapter 25 Probiotics and Allergy
Appendices
Appendix A
Diet for Pregnancy
Appendix B
Casein and Gluten-Free Diet for Autism
Appendix C
Gluten-Restricted Diet for Celiac Disease
Appendix D
Sequential Incremental Dose (Open) Challenge
Appendix E
Maintenance Diets
Appendix F
Useful Tools in the Dietary Management of Food Allergy
Glossary
Index